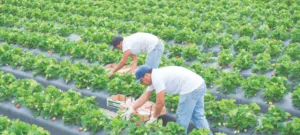 Rooted in History, Growing with Purpose: Our History
Supporting workers every step of the way
Our journey started more than 65 years ago, and a lot has changed since then.
FFVA Mutual's history begins with a single seed, planted in agriculture. Nurtured by a sense of purpose and watered by the dedication of our Solutionists, this seed grew into the FFVA Mutual that we know today – a company that has established itself as a leader in the workers' compensation insurance industry.
This story is one of transformation, growth and a steadfast commitment to our mission to deliver to deliver trusted workers' compensation solutions and personalized customer experiences. Throughout our history, we've embraced change and faced challenges head-on, always guided by the needs of those we serve.
We invite you to join us as we explore the milestones and moments that have shaped our identity. We'll delve into the connections that have fueled our growth and the unwavering purpose that has driven our evolution. As you follow along, you'll discover our authentic and inspiring journey — a story that continues to be written.
Setting the Scene: A Time of Challenges and Change
In 1956, the demand for agricultural workers was soaring and farms were looking beyond borders for labor. Amidst this landscape, we were born as the FFVA Self-Insurers Fund, with a singular goal – to provide workers' compensation insurance for workers employed by members of the Florida Fruit and Vegetable Association (FFVA). We made sure these workers received the required coverage, fostering a safe and thriving agricultural community.
Then, as the 1980s unfolded, the Florida Farm Bureau's workers' comp program went insolvent, leaving many farmers in need of support. Recognizing the opportunity to make a difference, we stepped up and integrated Farm Bureau members into our network. This decisive action fueled our rapid expansion, propelling us to new heights.
Embracing Transformation: A Bold New Identity
The 1990s were marked by intensifying competition and an ever-changing market. It was time for us to evolve and diversify to stay ahead of the game. In 1996, we reorganized as FFVA Mutual and began expanding beyond Florida in 1998. Today, we insure hundreds of businesses in all major industry groups in our 10 licensed states (AL, FL, GA, IN, KY, MS, NC, SC, TN and VA).
As we expanded our footprint and diversified our industry types, we stayed true to our core values: integrity, teamwork, innovation and customer focus. These principles guide our actions and shape our company's culture.
One of our key differentiators is our commitment to loss prevention and risk management. We collaborate closely with policyholders, offering tailored solutions to minimize risk and create safer work environments. Through proactive safety guidance, education, training and support, we foster a secure culture that benefits both our policyholders and their employees.
Our claims team is second to none when it comes to coordinating appropriate medical treatments, managing claims to reduce costs, and assisting with return-to-work transitions. Having an in-house claims management department means our staff has easy access to information from underwriters and safety consultants that can be quickly shared with agents and employers.
The Ripple Effect: Impacting Lives Beyond Insurance
At FFVA Mutual, our dedication extends beyond providing exceptional insurance services. Our sister organization, the Florida Fruit and Vegetable Association (FFVA) was founded during World War II. During this time, FFVA provided political lobbying services for Florida-based farmers, primarily affected by wartime price controls. Over time, FFVA expanded its offerings, adapting to the needs of Florida's agricultural workers.
Our bond with FFVA remains strong. We were created to support their mission, providing workers' compensation for employees and we continue to provide financial support, maintain close ties with senior leadership and carry our heritage as champions for agricultural workers.
We believe in supporting causes that align with our values and contribute to the well-being of our communities. As a policyholder, you play an integral role in our philanthropic efforts.
Our historic affiliation with FFVA enables us to provide significant support to the agricultural industry, which puts food on tables across America. We're committed to helping this vital sector thrive and ensuring a sustainable future for the people involved in it.
In addition to supporting fresh fruit and vegetable production, our success allows us to serve a higher purpose by giving back to local charities. We take pride in partnering with and contributing to impactful local charitable organizations that enrich our communities, create positive change and uplift those in need.
"Our teams have really embraced the fact that we support an agricultural association that enhances the production of fruits and vegetables domestically to feed our nation and provide fresh, wholesome and healthy produce during a time of year when we're the only ones in the country that can grow it," said FFVA Mutual President Alan Hair.
By choosing FFVA Mutual, you're not only receiving trusted workers' compensation solutions but also contributing to a greater cause, making a lasting impact on the lives of others and the communities we serve.
Our Future: What Lies Ahead
Our journey is far from over, and as we look to the future, our purpose is clear. We're driven to deliver trusted workers' compensation solutions and personalized customer experiences that empower our agency partners and policyholders – all while maintaining the highest standards of underwriting, safety expertise and claim results.
Our aspirations reach beyond the ordinary. At FFVA Mutual, our mission is to deliver trusted workers' compensation solutions and personalized customer experiences to our agency partners and policyholders through respected underwriting, expert safety services and positive claim results. We will continue to accomplish our vision to be the workers' compensation insurance company of choice recognized for unparalleled service, strategic growth and financial strength.
The Enduring Legacy of FFVA Mutual
Our progress has been marked by growth, transformation and an unwavering commitment to our policyholders. As we continue to develop, we remain true to our roots while facing challenges and seizing opportunities that come our way.
At FFVA Mutual, we're more than just an insurance company. We're a family, bound together by our shared passion for making a positive difference in the lives of our policyholders and the communities we serve. Together, we'll continue to embrace the challenge of surpassing expectations and building a legacy that inspires generations to come.
Learn more about FFVA Mutual and download our History on our About Us page.
Sustainable Workforce in an Aging Society The workforce is graying but far from fading By 2030, we're staring down a...
more
Read more