In-House Claims Management Solutions
Even in the safest environments, workplace injuries happen.
If and when they do, your dedicated claims adjuster will be there to coordinate appropriate medical treatments, manage claims to reduce costs, and assist with return to work transitions.
Having an in-house claims management department means our staff has easy access to information from underwriters and safety consultants that can be quickly shared with agents and employers.
Our expert claims Solutionists focus on positive outcomes.
This is achieved by taking a hands-on approach to successfully manage the claim process by:
Thoroughly investigating the accident and injuries from day one
Coordinating proper medical treatment
Ensuring accurate and timely payment of benefits
Helping injured employees return to work quickly and safely
This emphasis on positive outcomes lowers claim costs which in turn lead to lower premiums.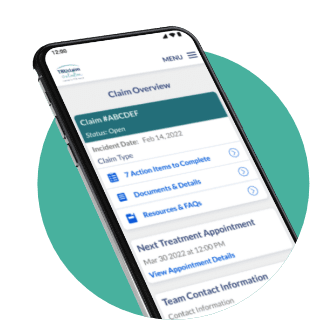 TRUclaim Solution Portal for Injured Workers
This innovative portal supports and guides injured workers through the claim process and is now available for new claims in all of our 10 licensed states.
Learn more about TRUclaim Solution
Workers' Comp Solutionists
Ways FFVA Mutual's Claims Services Benefit Employers
Dedicated Claims Team
Every policyholder has a personal relationship with their adjuster – regardless of the number of locations or claim count. Lower claim counts (100-125) improves communication and provides additional time for adjusters to investigate claims and build trust with everyone involved.
Personalized Return to Work
We work closely with the employer and injured worker to transition them back to work as soon and as safely as possible. Our reintegration process reduces costs across the claim and improves employee morale.
Experienced Adjusters
Our adjusters have an average of 10+ years of experience. They know when to question a claim and when to champion it. Identifying the right path early on in the process lowers costs, and bringing in assistant adjusters streamlines the process to close claims quicker.
Low Litigation rates
With litigation rates 50% below the industry average, you can expect claims savings. Over the last four years, our litigation rates average below 9%.
In-House Medical Review
Details matter. We go beyond fee schedules and PPO discounts to evaluate every medical bill for duplicates, up-coding and more. This results in significant savings that directly impact premium through lower experience modification rates. Learn More