7 Questions with Kim Oakes
Last modified on February 19th, 2019
In today's Solutionist Spotlight, we're catching up with Kim Oakes, small business underwriter at FFVA Mutual for nearly 20 years. When she's not cheering on the UCF Knights (Kim is a steadfast alumni), you'll find her in the softball stands rooting for another win at one of her daughter's softball games!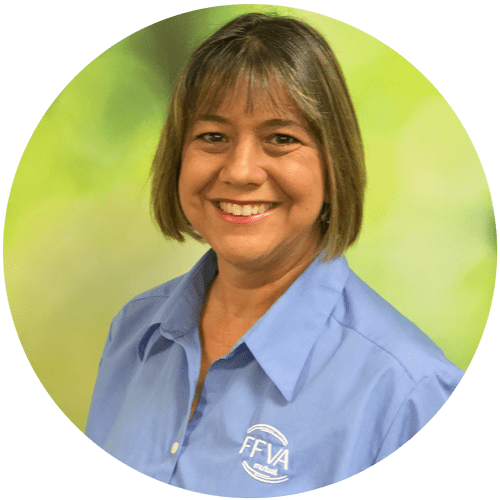 Get to know Kim a little better through her answers to our 7 questions!
Solutionist Spotlight: Kim Oakes
What do you like most about your job/role at FFVA Mutual?
The relationships I have made both with customers/agents and my coworkers.
As a kid, what did you want to be when you grew up?
A nurse. Growing up, I always wanted to be a nurse; I think it was because I wanted to help people. I was in the nursing club and an athletic trainer in high school. But when I was in college, I decided that I wanted the 9 to 5 job so I could raise a family.
If you had to eat one meal, every day for the rest of your life, what would it be?
Steak medium rare and mashed potatoes.
Top three highlights of your life?
Getting married, having my children and watching my children grow into amazing adults.
What is the one thing you can't live without?
My family. My husband and I have dedicated so much time to raising our two beautiful daughters that I cannot image life without them. I will find out more next year when my youngest leaves for college and I am left with an empty nest.
What would you most like to tell yourself at age 13?
Work hard and do not give up on your dreams. I never really had big dreams, but I knew I wanted to be the first one in my family to complete college; my dream was to have a successful career along with a family. Working at FFVA Mutual has enabled me to do both.
Where is your favorite place to be?
The Mountains. I have grown up in Florida so the mountains are a place away from home. My oldest daughter is attending college and playing softball in South Carolina, not too far from Ashville, NC. When we are up visiting her, you can see the outline of the mountains in the distance and it is so beautiful. We enjoy hiking to see waterfalls.
Bonus: What is your favorite sport and why? Fastpitch softball – it has brought our family wonderful friendships and memories.

Sustainable Workforce in an Aging Society The workforce is graying but far from fading By 2030, we're staring down a...
more
Read more