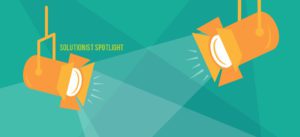 7 Questions with Karin Dickens
Last modified on August 13th, 2020
In today's Solutionist Spotlight, we're catching up with Production Underwriter Karin Dickens. Based in North Carolina, she's a southern transplant (originally from PA) with a big heart and a steadfast champion for the Leukemia and Lymphoma Society.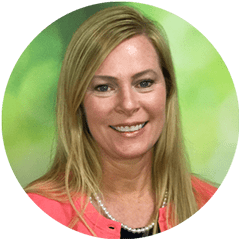 Get to know Karin a little better through her answers to our 7 questions!
Solutionist Spotlight: Karin Dickens
What would you do (for a career) if you weren't a workers' comp underwriter?
Party planning — I love to throw a party! I have thrown New Year's Eve parties, Halloween bashes, and themed-birthday parties for my neighbor's children, including a luau! We have thrown a 4th of July party for the last five years, and it grows annually. Hosting friends, neighbors and even strangers by the end of the evening, when we set off an arsenal of fireworks. Last year, we hosted a formal Christmas party at our home with about 50 guests. Give me a reason, and I will draw up plans!
As a kid, what did you want to be when you grew up?
Since I can remember, I've always wanted to be a flight attendant. I thought it would be amazing to fly all over the world. As a senior in high school, it was assumed that I would go to college, so I switched my focus to hotel-restaurant management, then teaching, and somehow ended up in insurance.
If you could learn to do anything, what would it be?
Learn a foreign language (Spanish or French… maybe both); and play an instrument. I realize it is not too late to do either. Someday…
What was the last experience that made you a stronger person?
My daughter, Karson's diagnosis of Acute Lymphoblastic Leukemia at age four in 1997. Karson endured 27 months of chemotherapy, steroids, medications, surgeries, and 17 spinal taps. Prior to that time, I never would have thought I could handle my child having cancer. I was her advocate and our family has represented numerous local and national charities to raise awareness and funds to benefit the Leukemia and Lymphoma Society, blood cancers and childhood cancer. Now, nearly 10 years after her remission, our family stands stronger than I would have ever imagined!
What is the first (or last) concert you attended?
I can't answer this question without stating that I have easily seen over 100+ bands perform in my lifetime. From that first "concert" at an amusement park where I saw "The Romantics" perform, to my most recent Holiday concert that included artists "For King and Country," I have witnessed a wide variety on stage. I'm looking forward to seeing Kenny Chesney in a few weeks!
What do you always want to try and never did?
A Spartan Race. A race (i.e. a 10K run with a bunch of obstacles along the way).
What is your most treasured possession?
It is a toss-up between my grandmother's diamond ring or my own that was presented to me in 1996, when my hubby proposed. I also treasure my father's artwork. He's now in a nursing home after a stroke, but he was a talented potter and I have a variety of his artwork that I will always cherish.
Looking for more Solutionist Spotlights? Click here
Sustainable Workforce in an Aging Society The workforce is graying but far from fading By 2030, we're staring down a...
more
Read more