7 Questions with Jose Ramos
Last modified on June 22nd, 2021
This Solutionist Spotlight features Jose Ramos, FFVA Mutual's Vice President of Safety and Loss Control. His safety, security and risk management career spans nearly 40 years working with insurance, pharmaceutical and Fortune 500 companies. Get to know Jose better as he shares his experiences and thoughts on leadership, safety training, one food he can't live without and more in his answers to our 7 questions below!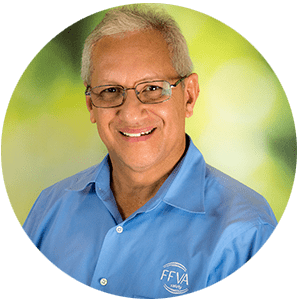 Solutionist Spotlight: Jose Ramos
What makes FFVA Mutual's safety team different from other insurance carriers?Our safety consultants do not offer employers a one size fits all solution. Their approach, services and recommended controls are specific to the business type, size and complexity, hazards present and level of formal safety programs/systems. I like to say that, as a carrier, FFVA Mutual is large enough to provide all the necessary services yet small enough to be flexible and easily adjust to the specific needs of each policyholder. Every safety consultant was specifically selected for the role they fill at FFVA Mutual. Each consultant brings the added value, needed skills or experiences and are a perfect fit for our team and culture of our company. When interviewing a candidate for a safety consultant position, I ask myself – will adding this person to the team make us stronger and better? Does he or she bring a skill, experience or value we currently need more of or don't have?
What is one thing safety directors can do at work to make the most impact on their safety programs?The one thing that I feel can make a significant difference is motivating all employees to become safety leaders. It's important to get everyone involved in the implementation and managing of safety programs. Listen to what employees have to say and integrate safety to company goals, meetings, training events and operations. Safety should be front and center, and add value by creating operational excellence through disciplined performance systems. If you haven't attended one of our safety leadership or safety foundation training events, I encourage you to do so!
What is your favorite Safety Leadership Academy or Safety Foundation presentation topic and why?My favorite Safety Academy presentation is "Motivating Employees for your Company's Desired Safety Culture." I believe the culture of a company is what determines how employees will behave and/or perform, in spite of circumstances or pressure. Management should inspire people through personal examples, good management practices and a sense of moral responsibility. Sustaining the culture requires total engagement and commitment from employees at all levels. Culture change can only occur if you can achieve an emotional connection with each employee.
What words best describe FFVA Mutual?In my opinion, they are Integrity, Service and Family
What do you like most about your role at FFVA Mutual?What I like the most about my role at FFVA Mutual is the ability to facilitate the growth and development of other team members, being listened to when expressing my ideas, and the family-like culture. After a career of about 40 years in the fields of safety, security and emergency response, some with Fortune 500 companies, this is where I've felt I've achieved the highest level of fulfillment. I've been able to influence change and hopefully provide team members a better quality of life while at work.
What 3 traits define you?Treating everyone with respect, having a higher than average sense of responsibility and always trying to do the right thing, even when the path is much harder.
What one food do you wish had zero calories?That's easy – Cheesecake! That's a basic food group, isn't it?
BONUS: Do you have a favorite quote or line from a book?
I have several favorite quotes on leadership that I use as a daily reminder/guide:
"Leadership is communicating a person's worth and potential so clearly that they are inspired to see it in themselves." – Stephen Covey
"It doesn't make sense to hire smart people and then tell them what to do; we hire smart people so they can tell us what to do." – Steve Jobs
"A good leader can inspire people to have confidence in their leader. A great leader inspires people to have confidence in themselves." – Eleanor Roosevelt
"Do what you can, with what you have, where you are." – Theodore Roosevelt
"Every time you think the problem is 'out there', that thought is the problem." – Stephen Covey
For more information about Jose Ramos,
view his executive team bio
Looking for more
Solutionist Spotlights
?
Click here
Sustainable Workforce in an Aging Society The workforce is graying but far from fading By 2030, we're staring down a...
more
Read more