7 Questions with Doug Maglich
In this month's Solutionist Spotlight, we're catching up with Senior Safety Consultant Doug Maglich. Based in Sarasota, Florida, he's a proud FSU alumni and certified building contractor with more than 15 years of industry experience.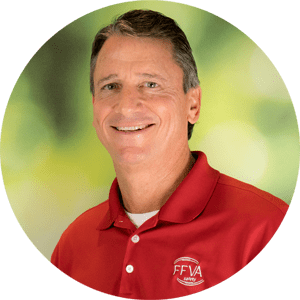 Get to know Doug better through his answers to our 7 questions.
Solutionist Spotlight: Doug Maglich
What is the #1 safety advice you give to employers and why?
For all businesses regardless of size, my #1 safety advice is to establish a well-documented safety program that everyone at the company has access to. Workplace safety culture begins at the top with ownership and managers – and is only as strong as its weakest link. When management is fully involved and supportive, then the safety program grows and adapts since employees have the "buy in" and are responsible for maintaining a safe work environment to help reduce work-related injuries.
What would people never guess you do in your role
I think people would be surprised at the wide variety of business types we work with in this industry. In my role as a Safety Consultant, I have worked with many unusual operations over the years, including an exotic wild animal farm that raised rhinos, pygmy hippos and gazelles.
What would you choose for a career if you weren't a Safety Consultant?
A residential & light commercial contractor.
What is your personal philosophy?
That you are either a part of the problem or part of the solution- there is no in-between.
What do you enjoy doing in your spare time?
Working in my yard doing landscaping, doing woodwork projects with my wife, and boating/fishing.
What is the first concert you ever attended?
The Eagles at Tampa Stadium (The Sombrero) in the late 70's.
Where is the best place you have traveled to?
Definitely Alaska. It is the most pristine, beautiful and unspoiled area I have ever visited. The local people are very proud of their heritage and land and the wildlife was amazing.
Watch Doug in action in two of FFVA Mutual's Safety Short Talks below.



To learn more about Doug and the rest of our safety team, visit https://www.ffvamutual.com/safety/safety-team/
Sustainable Workforce in an Aging Society The workforce is graying but far from fading By 2030, we're staring down a...
more
Read more