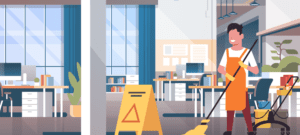 Workplace Housekeeping: How to Create Effective Safety Practices
How Workplace Housekeeping Protects Employee Health and Safety
Workplace housekeeping is an important element of any employee health and safety program, as it identifies hazards and ensures workspaces are clean, organized and clutter-free. When effective, these programs can reduce illnesses and injuries, boost safety awareness and promote positive behaviors to enrich the lives of employees. Of course, good housekeeping is about more than general cleanliness – it's about building a strong foundation to support your hazard identification, risk assessment and personal safety initiatives. Since every business grapples with different hazards, it's important to develop a custom-fit housekeeping program that suits your unique needs.
3 Benefits of Workplace Housekeeping
Workplace housekeeping is not only a best practice for employee health and safety, it's a necessity both in terms of reducing on-the-job accidents and staying compliant with the regulations laid out by the Occupational Health and Safety Administration (OSHA). Under OSHA's 29 CFR 1915.81 standard, employers must "establish and maintain good housekeeping practices" that proactively identify and remove hazards that pose a risk to employee health and safety. This standard is packed with general and specific provisions that outline employers' responsibilities, from eliminating slippery surfaces to safely storing hazardous materials. However, OSHA's guidelines only provide for minimum requirements, meaning safety directors will need to do some legwork to create an effective, customized workplace housekeeping program.
As noted by OSHA, good housekeeping offers wide-ranging benefits for employers and employees alike, including:
1. Enhanced Worker Safety
Keeping workspaces clean and free of clutter can help reduce slips, trips and falls, which are among the most frequently reported accidents by U.S. employers, according to the Bureau of Labor Statistics. Eliminating dust, debris and flammable materials can also minimize fire hazards, allergic reactions and other common on-the-job risks. Alongside active workspaces, employers should also create clear storage areas and practices to ensure all tools, equipment and materials are organized appropriately.
2. Improved Worker Health
Putting a regular housekeeping schedule in place can help reduce workers' exposure to common irritants (like dust and vapor buildup) and hazardous substances, including chemicals, heavy metals and waste. While this is particularly important for companies in the manufacturing, construction and energy industries, prioritizing cleanliness can improve working conditions for employees regardless of their occupation.
3. Higher Productivity and Lower Costs
Maintaining a safe work environment can also benefit employers' bottom lines – after all, a healthy employee is a productive employee. By putting workplace housekeeping at the forefront of your safety program, you can simultaneously promote employee wellness, increase morale and maximize your use of space. What's more, training your employees in good housekeeping can allow you to proactively control hazards to prevent injuries and lower claim costs.
Steps to Create an Effective Workplace Housekeeping Program
Identify Workplace Hazards
The first step to improving your workplace housekeeping program is to consider which specific conditions pose the greatest hazards to your employees' health and safety. Conducting a thorough job hazard analysis will help you identify, assess and mitigate workplace risks that you may have otherwise overlooked. During this process, be sure to incorporate input from your boots-on-the-ground workers, as they likely have a clearer understanding of daily workflows across departments. In terms of specifics, safety managers should keep an eye out for these common hazards:
Abandoned tools, materials and machinery
Blocked entryways and emergency exists
Cluttered workspaces: Offices, production sites, shipping docks, storage rooms, etc.
Dust buildup on floors, equipment and high surfaces
Leaky machinery, plumbing and storage containers
Tripping hazards near/on walkways, such as extension cords
After conducting a hazard assessment, the next step is to put together a detailed workplace housekeeping program­ that directly addresses all identified risks. This program should be documented and easily accessible, as your workers are the front-line defense against clutter and disorganization.
Establish Housekeeping Policies
Keep in mind, good housekeeping is a continuous process. To identify new hazards and the buildup of dust, debris and waste, employers will need to frequently review their policies and make adjustments to their hazard identification and cleaning schedules.
When creating a workplace housekeeping policy and schedule, employers should:
Establish clear roles, responsibilities and expectations
Discuss specific hazards and their associated risks
Outline all cleaning and decluttering tasks in detail
Develop processes for the handling and storage of hazardous materials
While good housekeeping may be new for your employees in a work-related context, many of the tasks they'll perform are similar to typical cleaning and organizing they do at home. However, even for the most efficient cleaning pros, disinfecting surfaces, decluttering workspaces and organizing tools take time. Be sure to set aside enough room in your employees' schedules to perform workplace housekeeping duties at the start of their shifts to incorporate this initiative into their daily routines.
By making housekeeping a priority and part of their day-to-day responsibilities, employers establish positive habits that will make future housekeeping work quicker and less labor-intensive. The goal is to promote positive safety behaviors and habits that keep workspaces tidy around the clock and prevent work related injuries.
Whether you're looking to improve your existing workplace housekeeping program or start from scratch, FFVA Mutual's Solutionists are here to help. Our safety consultants provide free on-site and online training for policyholders to develop more effective and sustainable employee health and safety practices. Check out this short talk on good housekeeping to start your journey toward an organized, clutter-free workplace.
Are you interested in useful tips for other important employee health and safety issues? Our policyholders have access to a growing library of webcasts and short talks  on trending safety topics that offer actionable, solutions-based recommendations that every employer can benefit from.
Sustainable Workforce in an Aging Society The workforce is graying but far from fading By 2030, we're staring down a...
more
Read more