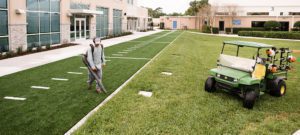 FFVA Mutual's 2021 Annual Report
Last modified on August 4th, 2022
FFVA Mutual's 2021 Annual Report shares our company's financial highlights, results of operations, reimagined mission/vision and strategic goals geared toward growth, innovation, and outstanding customer experiences.
2021 Annual Report President's Message
For FFVA Mutual, 2021 was a year of false starts, detours, and do-overs as one strand of COVID-19 faded away only to be replaced by a new variant. We started new initiatives and planned events only to have to cancel, delay or reschedule. It felt like we were at a horse race ready to run, but we were not allowed to get out of the gate and charge down the course. Amazingly, despite these challenging and frustrating circumstances, and because of the resiliency of our Solutionists, FFVA Mutual recorded one of our most successful years in recent history!
I am truly grateful for the hard work and perseverance of the FFVA Mutual team and the continued support of our independent agents, policyholders, and board of directors. The strength and success of this organization is built on the quality and dedication of our team and the depth of our relationships with our valued business partners.
During the past nine months, we have undertaken a grassroots planning initiative to take a hard look at our organization and set strategic goals to enable growth and ensure our success into the future. Through this process, the engagement of our team has been amazing, and their ideas will drive our company forward in a variety of important areas. Together we will: launch initiatives to stimulate growth; expand FFVA Mutual's visibility and brand recognition in the marketplace; improve communication methods and processes; enhance innovation while staying true to our core mission and values; and attract, develop, and retain high quality Solutionists to enhance our FFVA Mutual team. Successful execution of these initiatives will help us realize our vision: "To be the workers' compensation insurance company of choice recognized for unparalleled service, strategic growth and financial strength."
We are excited and optimistic about our plans for 2022 and beyond! Thank you for trusting FFVA Mutual for your workers' compensation insurance needs.
Sincerely,
Alan
Alan Hair
President & CEO
To view FFVA Mutual's 2021 annual report, click here. For printed copies, email marketing@ffvamutual.com
Looking for more content about FFVA Mutual or our dedicated account service team approach to providing outstanding workers' compensation services for our agents and policyholders? Take time to visit our blog!
Sustainable Workforce in an Aging Society The workforce is graying but far from fading By 2030, we're staring down a...
more
Read more