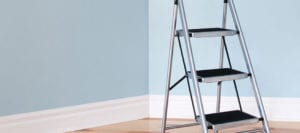 Prevent Falls with these 5 Ladder Safety Tips
Last modified on July 17th, 2018
Falls from ladders can happen anywhere, anytime and to the most cautious user. According to OSHA, falls from portable ladders (step, straight, combination and extension) are one of the leading causes of occupational fatalities and injuries.
Falls don't just happen at the workplace. In the United States, more than 500,000 people every year are treated and about 300 people die from ladder-related injuries. According to the Centers for Disease Control and Prevention, the estimated annual cost of ladder injuries in the U.S. is $11 billion.
At the workplace or at home, avoid injuries by following these five basic ladder safety tips:
1. Check your equipment.
Before climbing on any ladder, it is important to check your equipment — including the ladder's recommended usage and instruction labels for weight restrictions and height uses/requirements.
Ensure you're on level ground and that the ladder is operating correctly. Note the highest acceptable step and make sure your ladder is tall enough (three feet taller than your required elevation) so you aren't tempted to use the top step, which should be avoided.
2. Review your surroundings.
If you're using your ladder outside, check local reports for weather or wind, or other potentially dangerous conditions that can hinder your ability to correctly use your ladder. When inside, set up the ladder away from doors or other hazards that could cause a fall.
Keep your working area clear of clutter or debris, including decorations, tools or other materials. When using a ladder, have a spotter at the bottom of the ladder to hold your position and ensure you are level.
3. Trust in teamwork.
Sure, you could handle moving heavy boxes from an attic alone, but why not have some help? While it is never recommended to have more than one person on a ladder at a time, have a spotter or base at the bottom of the ladder to hold your position and ensure you're level. They can keep an eye on things from a perspective you don't have when you're engaged in your work.
To keep the top of your ladder clear of unattended tools, ask your spotter to hold or assist with handing up necessary equipment.
4. Keep calm. And still.
Anytime you're working on a ladder, be aware of your movements and body position. Never use your body weight to shift or walk a ladder when standing on it. It may take more time, but face the ladder and climb down, and always reposition from the ground rather than while on the ladder.
Maintain a 3-point contact (hold on with two hands on either side of the ladder and both feet secure) for balance and remember not to lean too far or reach too high.
5. Enjoy your work!
When you're done, immediately put away your ladder first, before other tools. Then sit back, relax and toast your hard work with a cool glass of lemonade!
Karen Johnson is a safety supervisor, training programs & regulatory compliance with FFVA Mutual and can be reached at karen.johnson@ffvamutual.com.
Sustainable Workforce in an Aging Society The workforce is graying but far from fading By 2030, we're staring down a...
more
Read more